Suffering From a Conflict, Burnout-Syndrome or Depression?
Bring your soul in an upright position.
These 3 E-Books can help you to figure out what to change first
There are some reasons why these self-help e-books change the consciousness about a problem and its solutions.
Proven systemic approach – tested in systemic counseling practice
Quick to read and easy to apply
Based on an image concept instead of long text to read
Get 3 of the best "Fastest Books" in a bundle with a special discount! Save $11.1 and get the 3 e-books for $27
Tired of fighting against yourself?
Did you try to "fight depression"?
Have you tried to "battle against burnout"?
Did you want to "force peace"?
Stop it.
Why you should never fight against yourself
Who will have to do the fight? Your brain.
Where are the thoughts stored and turned round and round? In your brain.
So, you've tried to fight against your own brain.
That's like the attempt to hit a hammer with itself.
Stop it.
Can you begin a friendly cooperation with your brain?
Yes, you can cooperate with your brain. You definitively should.
How can you cooperate with your brain?
Learn how your brain works – and on the other side: how it will never do anything for you.
How can you learn the brain cooperation?
Read the e-book of the 3 in the bundle that meets your today's concerns best.
Welcome to the fastest Self Empowerment Books ever
Who can profit from these self-help e-books?
Every person, who is suffering from depression, burnout-syndrome, or conflicts, can take advantage from these books.
Will these e-books replace psychotherapy?
No, these e-books (as any other) will not replace psychotherapy. They can give additional insights. If you cannot help yourself, please visit a doctor or a psychotherapist.
Can psychotherapists also profit from these e-books?
Yes, psychotherapists can use the interventions in these e-books for their own practice. The enclosed methods and visualizations fit to systemic therapy but also to behavior therapy.
Who wrote these systemic self-help e-books?
Johannes Faupel, systemic counselor and supervisor, developed FastestBooks.com and wrote these e-books.
Is there a free reading sample available?
Yes, you can download a free reading sample here:
How can you be sure that you will change something?
I give you a 100 percent money-back guarantee for 30 days from the moment of buying. So, order this bundle and test it for 30 days.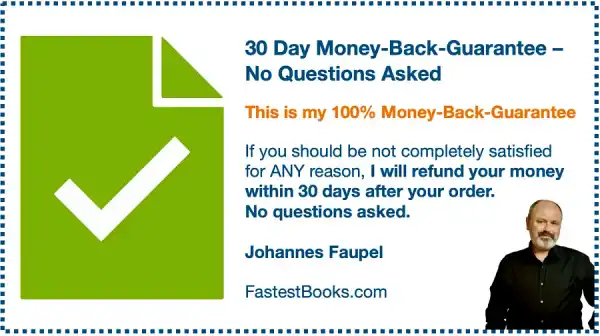 How can you help yourself in a crisis?
Change perspective on your situation
Visualize a good overcoming
Change your mind and your feelings
Lift your spine and show your soul that you are in an upright position